Collecting tips for wrestling action figures
Wrestling action figures collecting tips
LJN created the WWF Wrestling Superstars toyline in 1984, in response to Vince McMahon and the WWF's emphasis on catering to children while taking over the national wrestling landscape.
He-Man, Transformers, G.I. Joe, and Star Wars ruled the toy aisles in the 1980s, therefore it was time to make room for gigantic rubber wrestlers so youngsters could reenact their favorite matches.
Wrestling stars such as Hulk Hogan, Rowdy Roddy Piper, Triple H, Batista, Stone Cold Steve Austin, and John Cena are idolized by children and adults alike. Taking advantage of this, the WWF designed a series of action figures that included each of its professional wrestlers, the wrestling ring, and other accessories.
The figures came with plastic supports in the first release of this series. The JYD figurine was available with one of three different colored dog chains: black, red, or grey. There were two versions of the Piper figurine, one with red boots and the other with darker red footwear. His kilt also had several variations. Finally, much has been written regarding possible color differences in the Iron Sheik's tight patterns; some sources claim that certain figures had yellow patterns and some had orange patterns.
From 1984 to 1989, LJN (Lewis J. Norman) held the first license to create WWF action figures. The toys were composed of solid rubber and resembled their real-life counterparts almost exactly. The figures, on the other hand, lacked any articulation.
Rarest Wrestling Figures Worth An Absolute Fortune
Kamala (Moon on the Belly)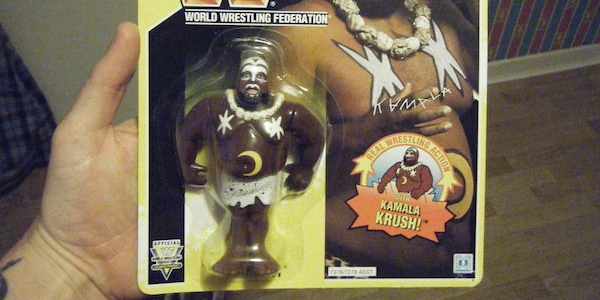 As part of the Yellow Card line, Hasbro released the Kamala action figure. The moon on the belly of the vintage Kamala action figure, rather than the brand, distinguishes it from other models.
Although there is no clear reason why the trademark was changed to a moon, analysts believe it was due to a legal difficulty.
Only 24 Kamala action figures with a moon on their belly are believed to exist today, making it the rarest of all WWE action figures.
The Kamala (moon on the belly) action figure costs between $3,000 and $10,000.
Modern day WWE Action Figures
In 1990, Hasbro took over the WWE figure production and included moving arms and spring-loaded movements. In 1996, Jakks Pacific added 15 points of articulation, moving legs and heads, and an unprecedented level of detail. Beginning in January 2010, Mattel became the fourth business to produce WWE figures.
After 37 years, Mattel's WWE figure collection is light years ahead of LJN's stiff Hulk Hogan figures. Randy Orton's Mattel figure now boasts 27 points of movement, extremely detailed tattoos, and authentic fabric attire, making it an exact replica of the 6-foot-4, 245-pound superstar. Fans can't get enough of the improvements.
The WWE Elite is one of the on-going toy lines put out by Mattel and WWE.
WWE Undertaker Elite Collection Action Figure,
The WWE Universe can collect iconic figures of favorite WWE Superstars from Monday Night RAW, Friday Night Smackdown, and NXT, plus WWE Legends and Hall of Famers!
Each WWE figure features highly detailed True FX technology for life-like authenticity
Recreate signature poses and finishing moves with 25 points of articulation for extreme poseability!
Includes interchangeable hands and iconic accessories, including entrance gear or WWE championships
WWE Liv Morgan Elite Collection Action Figure
test