Dying Light 2 Release Date and Information
If you're interested in zombie-driven apocalypses, Dying Light 2 is a must-play.
Dying Light 2 takes place 15 years after the first game
The release date for Dying Light 2: Stay Human has been pushed back to February 2022, which means we'll have to wait a bit longer to kick infected in the face. Dying Light 2, the highly-anticipated sequel to 2015's parkouring zombie-fest, should be well worth the wait, with a massive open environment that reacts and evolves according on the plot choices you make.
The old civilization has fallen 15 years after the zombie apocalypse. The environment you explore is harsh and vicious, with people fighting for resources and punishing the weak. The civilization is claimed to have "fallen back to the Dark Ages" in Dying Light 2 Stay Human, which is mirrored in The City setting. With an open environment to explore that combines current urban design with medieval architecture, you'll be able to use your parkour skills, as well as a grappling hook and a paraglider, to get around.
Dying Light 2 map size
The Dying Light 2 map size will be four-times bigger than the previous game, according to Techland
Lawan
Famous actress Rosario Dawson will Lawan one of the in-game characters. She is as sharp as the arrow of her crossbow, meet Lawan, one of the strongest warriors that you will meet in The City. How will her story evolve alongside Aiden? You'll discover it in Dying Light 2 Stay Human! Learn more about the character who's going to be played by the Hollywood star Rosario Dawson right here.
Survivors, Peacekeepers, and Renegades are the three factions in The City that are fighting for a place in the world, and each has its own reasons and strategies. The Survivors try to create safe zones and adapt to any predicament they find themselves in. Peacekeepers, on the other hand, are defined as "faithful warriors seeking to impose their vision of law and order and trample all who stand in their way." Finally, the Renegades are a group of ex-prisoners that serve a "ruthless colonel" and aim to take control of The City. It is up to you whether you help or hinder others, but your actions will have an impact on the earth and its inhabitants.
Aside from factions, you'll have to deal with bandits and outlaws who don't want to work with you. Of course, nightfall in Dying Light 2 is not a nice moment for anyone. As the sun sets, a slew of deadly infected virals and zombies emerge to play. The trailer demonstrates how the new adventure will offer a variety of talents to suit your desired playstyle, with plenty of parkouring action and tactical tactics.
You can check out the Lawan introduction on Dying Light's YouTube channel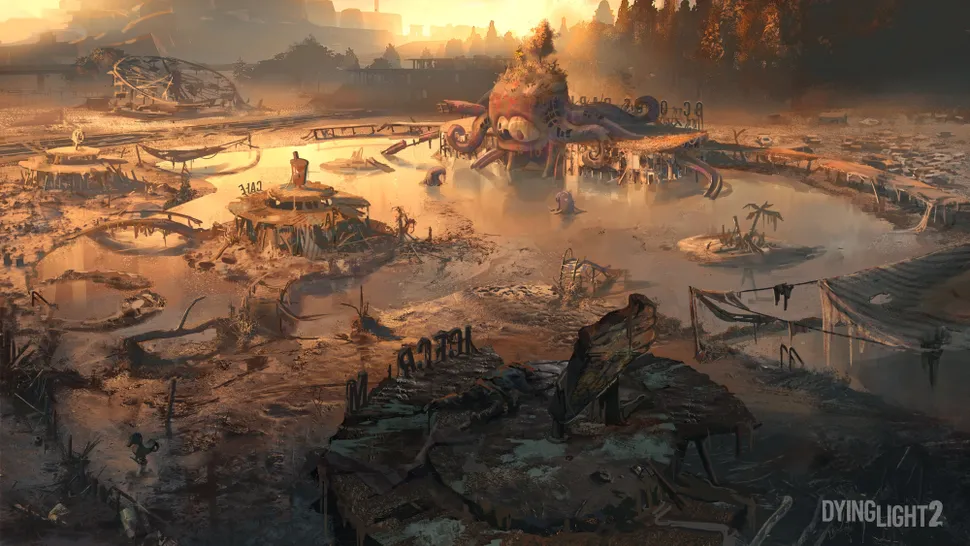 "Players are directly responsible for shaping the world of Dying Light 2. Player choices will influence whole regions, districts, areas of The City. Dying Light 2 will often force you to make decisions on the spot, and the outcome can be unexpected. This particular scene depicts just that – how one good deed can end in destruction. This theme park, once a bustling, lively district, now sits in ruins, the oversized Octopus attraction mirroring the famous Ferris wheel in Pripyat, near Chernobyl."
The landscape of Dying Light 2 will be littered with abandoned constructions that can be very functional as well as being suitable for combat and parkour difficulties. Some of them can be turned into bakeries, pumpkin farms, schools, and other home-building aspects with your help.
In a recent Dying 2 Know More video, lead game designer Tymon Smektala detailed how these structures fit into the city alignment system. He explained, "When you rehabilitate an abandoned structure, it becomes a working building." "It begins to open up a plethora of new possibilities for you. There may be vendors who give you one-of-a-kind goods, missions, or new collectibles, or NPCs with whom you can converse, which generally leads to new adventures."