The Elder Scrolls V: Skyrim – The Adventure Board Game
The Adventure Game will be released in August 2022, together with its two main expansions and extra upgrade packs
You are the last of the Blades, a famous squad that has long defended Tamriel's Empire! After being abandoned by the empire, you must join together to stop a plan that threatens the entire world of Skyrim.
Many of the enemies you'll encounter will be known to video game gamers, such as Daedra, trolls, and dragons. Furthermore, the miniatures in the game are the same scale as those in Modiphius' other Elder Scrolls miniatures wargame, Call to Arms, allowing you to swap them out..
Create your own character in the Elder Scrolls universe. Select from the Nord, Dunmer, Imperial, Altmer, Khajiit, or Orsimer races. Choose from a variety of weapons, spells, and armour for your character. Riften, Solitude, Falkreath, and Whiterun are just a few of the sites you can visit in Skyrim's Holds. Attempt a wide range of ever-changing quests that alter the game with each choice you make. Investigate the woods. Side missions can be obtained from strange characters.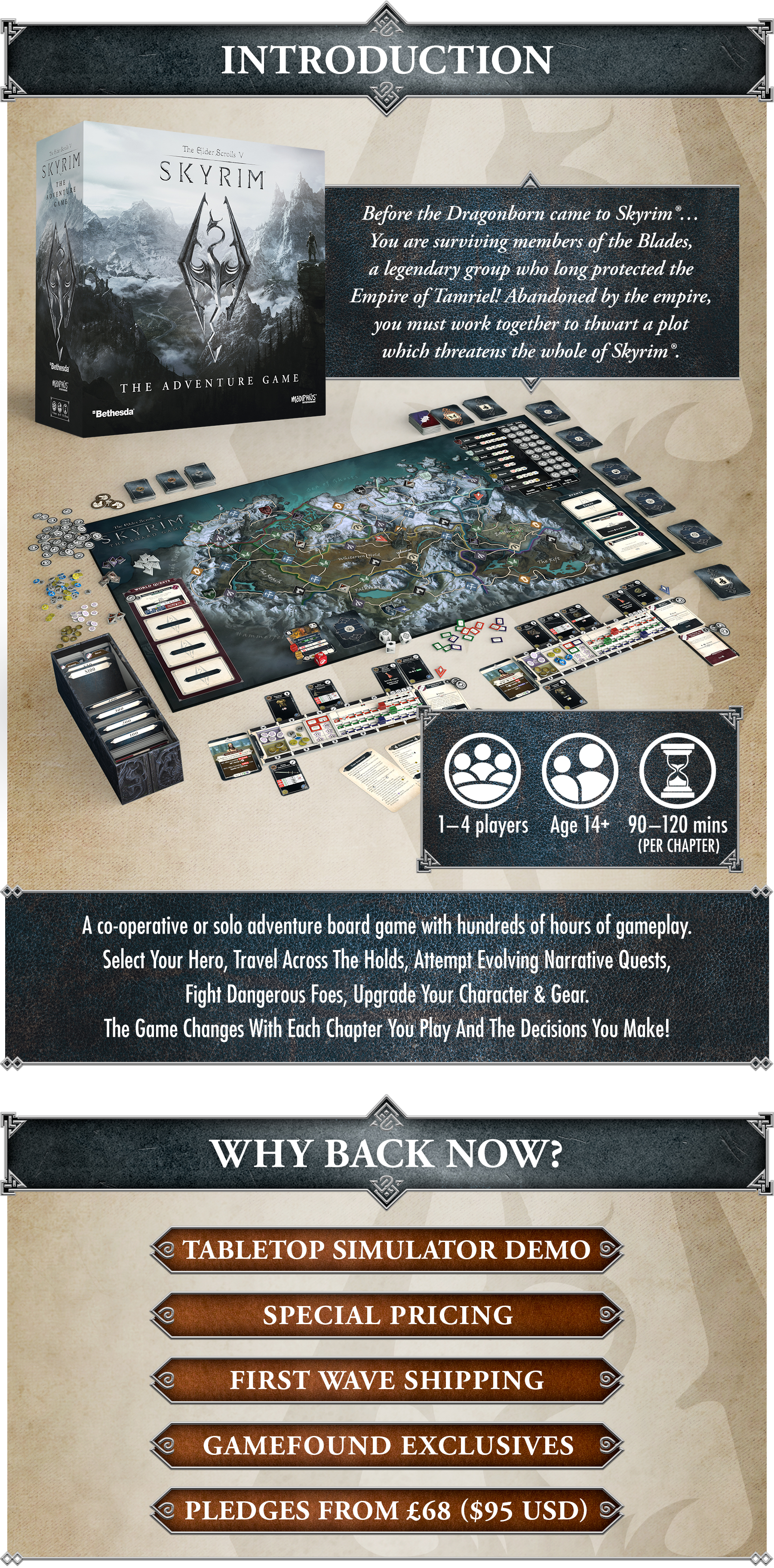 The base game is included at the lowest pledge level, which costs $112 / £82. One to four players will take the role of adventurers (choosing to play as an Imperial, Altmer, Nord, Dunmer, Khajiit, or Orsime) who must pursue quests and combat progressively greater threats in what Wargamer describes as a "sprawling adventure" game that focuses on co-operatively exploring the realm of Skyrim. Your decisions will have a long-term impact on the world around you, and random event cards will present fresh possibilities or opponents to deal with across two campaigns, each divided into three chapters.
The Elder Scrolls V: Skyrim – The Adventure Game is an epic co-operative or solo board game experience for 1-4 players, featuring hundreds of hours of gameplay. Select your hero, travel across the Holds, attempt evolving narrative quests, fight dangerous foes, upgrade your character and gear. The game changes with each chapter you play and the decisions you make!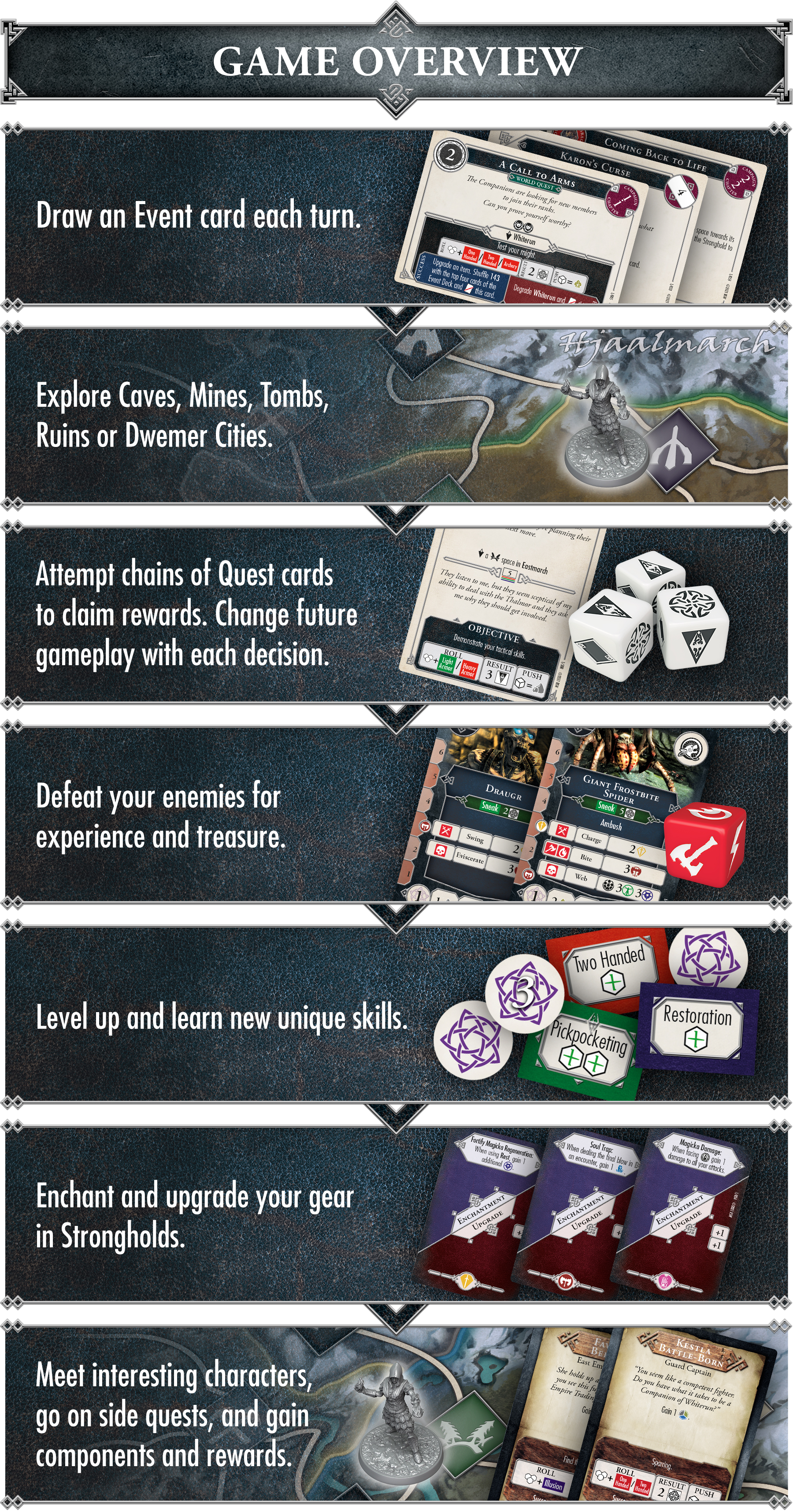 You'll be moving your hero across Skyrim from turn to turn, rolling dice to determine the success or failure of your attacks. By adding additional dice to your pool or allowing you to perform new actions of greater potency, new weapons and armour will increase the consistency of your strikes. It's not all luck, though; you'll have to decide whether or not to invest stamina and magicka to add more dice to your rolls, increasing your odds.
The second tier grants you access to the base game as well as Dawnguard and From the Ashes, the game's two primary expansions. Dawnguard adds a third campaign to the mix, as well as four new hero miniatures, over 100 new mission cards, and a slew of other content based on the Dawnguard DLC for Skyrim, including the players' transformation into vampires. These will set you back $190 (£140).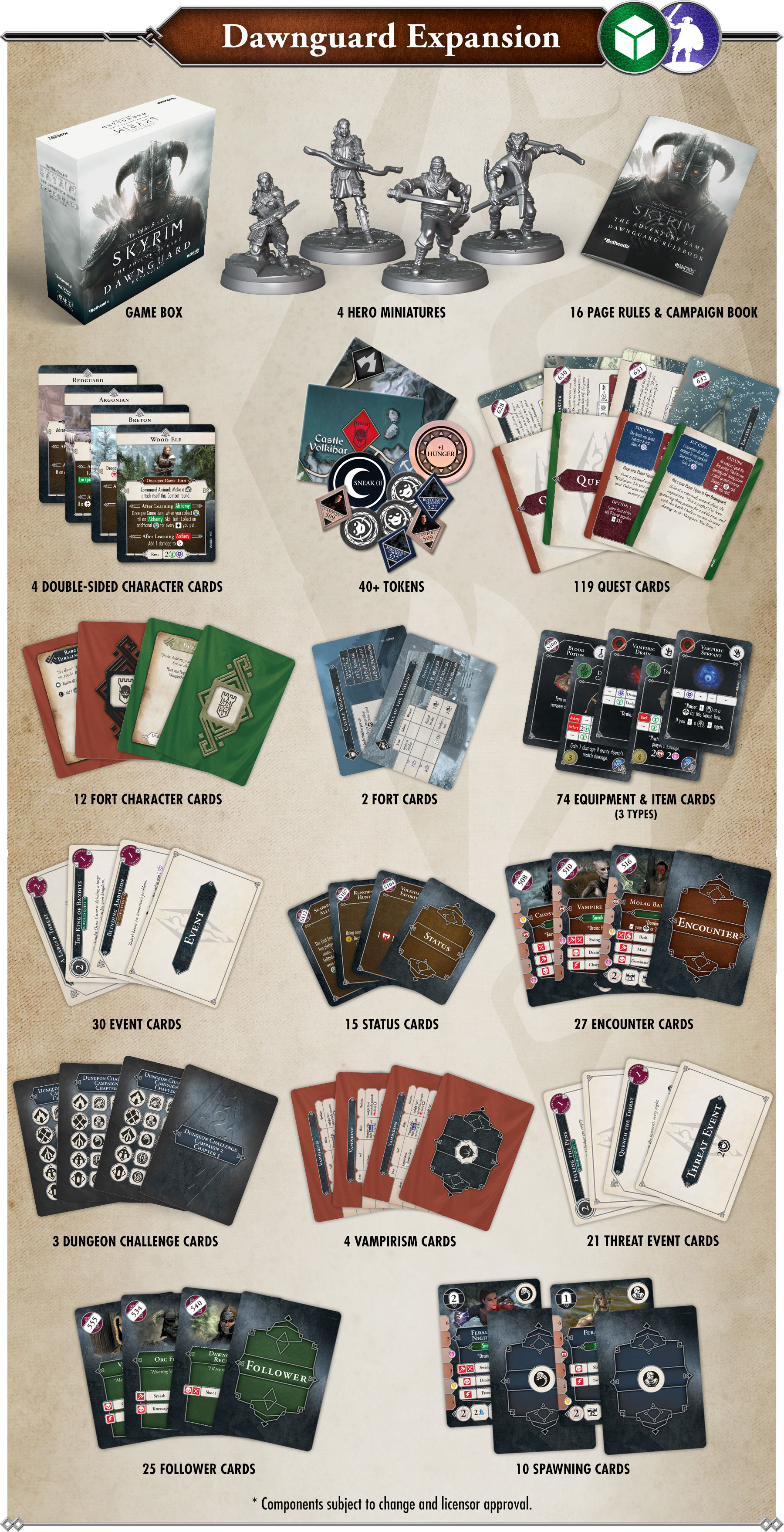 For $300 / £220, you can get an additional miniatures upgrade set, neoprene mat, and actual coins in the third and final tier. The entire tier breakdowns may be seen on the Gamefound page for The Elder Scrolls V: Skyrim The Adventure Game.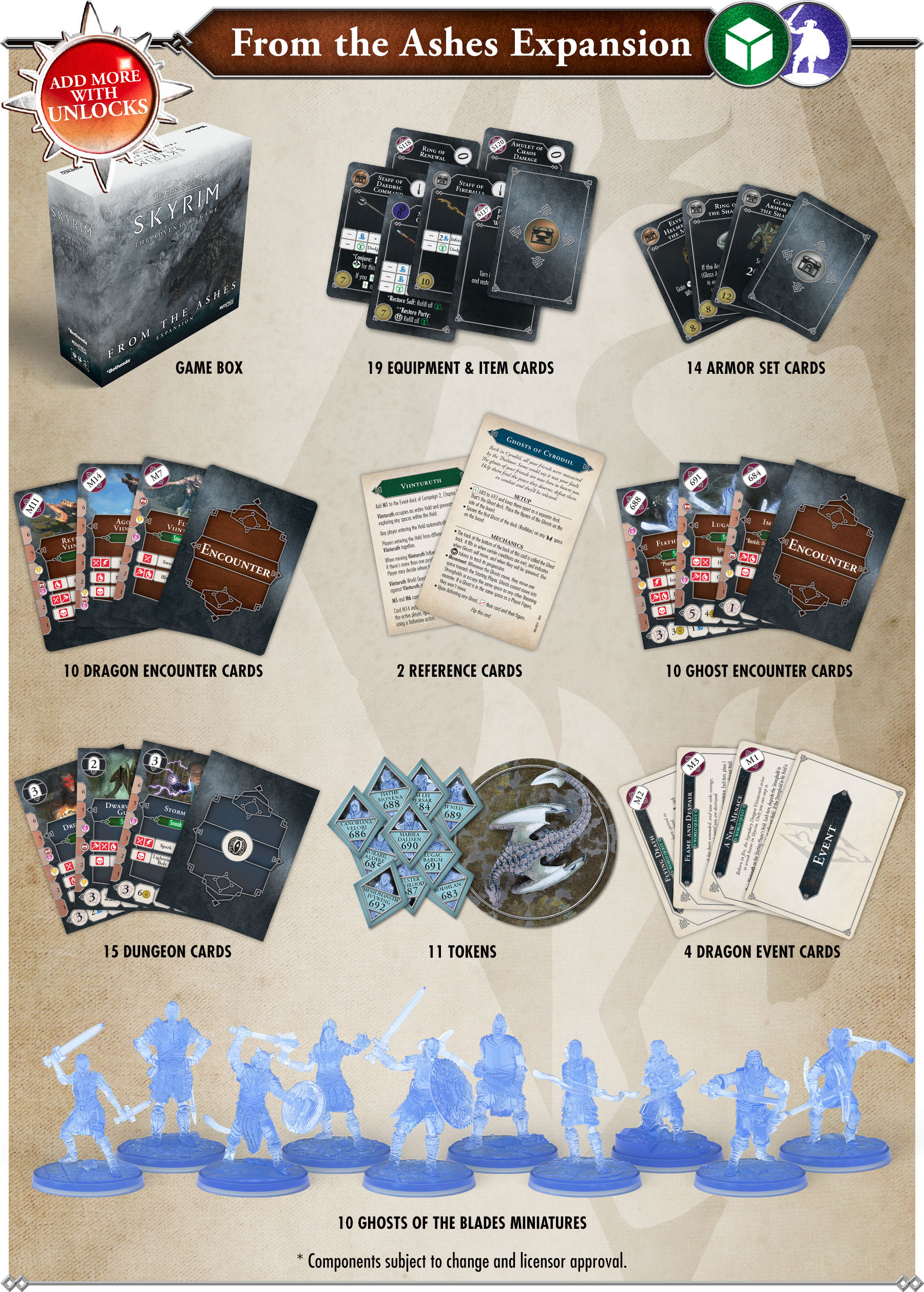 Modiphius ,claims that the game would provide "hundreds of hours of gameplay" with its numerous side missions, dungeons, and storyline paths, and that each playthrough will be unique. If you want to get it done quickly, you can finish it in ten to twelve hours.