Ultimate Fishing Simulator 2 Getting Ready
As the release date for Ultimate Fishing Simulator 2 approaches I decided to give the original game a test. I have been playing Bassmaster Fishing 2022 and other Dovetail fishing games so playing this game was an exciting adventure.
The major appeal in Ultimate Fishing Simulator is fishing, and there are a few different methods to go about it. Traditional rod and reel fishing, fly fishing, and even ice fishing are all options. You can use bobbers, add weights, and arrange your equipment as you want. Of course, different sorts of fish will be more drawn to certain baits or lures, or even bite at different times of day. There is a day and night cycle, as well as other weather changes, that will alter your experience and methods.
ULTIMATE FISHING SIMULATOR REVIEW
Description From Game Developer
Ultimate Fishing Simulator is a comprehensive fishing simulator which allows using various techniques, in different places around the world and most importantly, you don't need a permanent connection to the Internet for it.
If you are bored of waiting for fish to take and falling asleep in front of the computer, this means that you have played a bad game! In the Ultimate Fishing Simulator, this will never happen. Select the appropriate equipment and bait, cast your line and wait for a bite. Success is guaranteed.
In addition to traditional fishing techniques, in Ultimate Fishing Simulator you'll also find a winter map where you will be able to go ice fishing! Buy an auger at the store, find a suitable location and drill an air hole. But not too small, so that you can remove the fish.
There are two modes of difficulties in the Ultimate Fishing Simulator, thanks to which there is something for everyone. Normal Mode allows you to enjoy the game in all its glory. In normal mode, all the features in the game are included. Realistic Mode requires more patience and efficiency from the player. Fish will be biting less and will fight longer. Some of the game features in this mode are disabled, such as the underwater camera.
Every fisherman likes to admire his trophies. Some release their fish, other stuff and hang them on their walls. In Ultimate Fishing Simulator you can exactly do the same! Decide what you want to do with the fish you catch. Sell? Release? Stuff? The choice is yours.
If the maps available in the game bore you, you can create your own. Be creative and build your own dream fishery that you can share other players thanks to the built-in level editor. Enjoy fishing with your friends on your favorite, family fishery. What more could you ask for?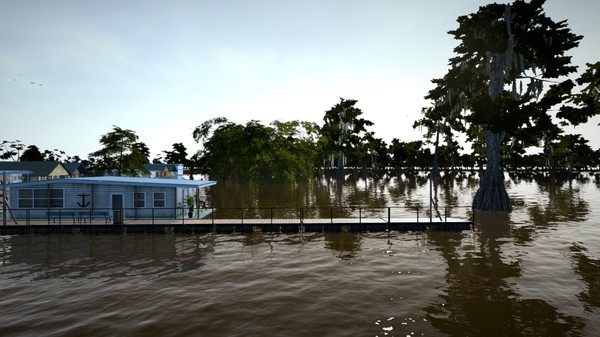 When a fish is caught, it is great to be given the option to sell it for better equipment or release it to earn bonus experience because in this way, the game accommodates different gaming styles and allows players the flexibility to enjoy the game on a more individual basis overall. For those who are experienced in fishing, this is probably quite a comparable experience in terms of the time it takes to choose the correct equipment and set everything up correctly. The undeniable contrast to real life is that with the correct setup (in Ultimate Fishing Simulator), a catch is almost always guaranteed! If trying to earn enough money to open a new location, and catching fish does become troublesome, it is always possible to move back to a previous location with a setup that works so that this can still be achieved.

Ultimate Fishing Simulator may not appear to appeal to everyone at first appearance, but it is entertaining enough to enjoy whether or not the user has any interest in fishing. There are many lovely settings to select from, and with so much equipment to try out, fishing is sure to be a fascinating and fun experience for everyone.
Ultimate Fishing Simulator 2
The release date for Ultimate Fishing Simulator 2 is coming soon.
If you are looking for a great fishing game to keep you busy until The Ultimate Fishing Simulator 2 is released try Bassmaster Fishing 2022 Getting Started.