WWE 2K22: MyGM guide — Draft, show booking, and recruitment tips
WWE 2K22 MyGM Mode Guide: Complete Tutorial, Tips & Tricks
With MyGM, WWE 2K22 brings back the traditional GM Mode. Here's how to beat your opponent's GM and win the season.
In WWE 2K22, GM Mode, which was one of the best elements of the SmackDown vs. Raw games, returns as MyGM. There are a few important mechanics that veterans may be familiar with, as well as some principles that novices should be aware of. This WWE 2K22 MyGM guide will assist you with draft picks, show booking, recruitment, superstar popularity, and more.
---
What is MyGM in WWE 2K22?
In MyGM, you compete against another GM (and show) to see who can get the most fans after a set amount of time has passed. It took place over the course of a complete calendar year in the preceding GM Mode, culminating in WrestleMania. You have numerous options in My GM, with the shortest season being 15 weeks and the longest being 50 weeks, both finishing at WrestleMania.
You can sign free agents and draft a squad of available wrestlers. It's your job to put up the best matches each week in order to attract the most viewers. Beyond match bookings, there are additional processes that can help you (see below), but organizing interesting contests is the most effective approach to attract spectators.
WWE 2K22 is a sequel to WWE 2K21. Tips for the draft, show booking, recruitment, and more in the MyGM guide
WWE 2K22 is a sequel to WWE 2K21. MyGM mode allows you to pick your own GM and display them.
In WWE 2K22, MyGM is a head-to-head battle between two brands. After a few weeks, you can compete against the AI or one of your friends to determine whose program has higher ratings. Here are the GMs available, as well as their perks and Power Cards:
Adam Pearce: Instigator – +1 rivalry level.
Sonya Deville: A Superstar's GM – +15 morale.
William Regal: Legend Whisperer – The first legend you sign will be free.
Shane McMahon: Coast to Coast – GM interferences this week give +2 show bonus and are free to book.
Stephanie McMahon: The McMahon Presence – Earn twice as much money from arena attendance this week.
Custom Superstar/CAW: Beginner's Luck – +20 popularity for the superstar with the lowest popularity in your roster.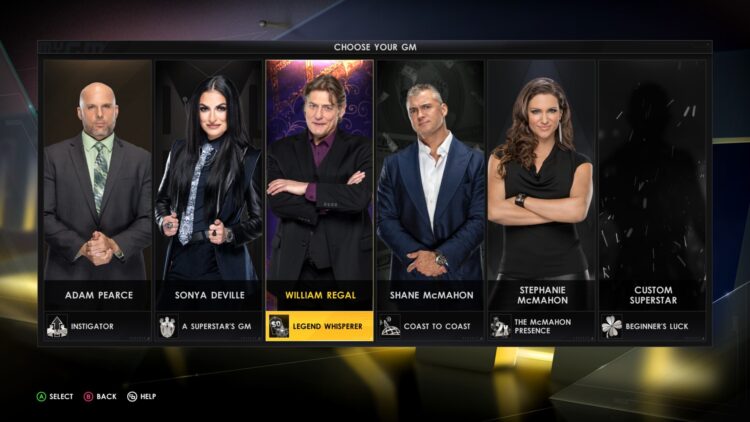 In WWE 2K22's MyGM mode, there are four brands to choose from, but only two will be competing against each other. It's also forbidden to build your own brand. Here are your selections, along with their associated power cards:
SmackDown: Birth of Legends – +6 popularity to six random superstars.
Raw: This is War – Three random superstars on the opposing brand can't be booked in next week's matches; can't be used prior to a PPV.
NXT: Fighting Champion – Title matches booked this week will gain a large ratings boost.
NXT UK: International Takeover – Your network deal (i.e., extra cash) is tripled if you gain fans this week. Otherwise, it will only be doubled.
---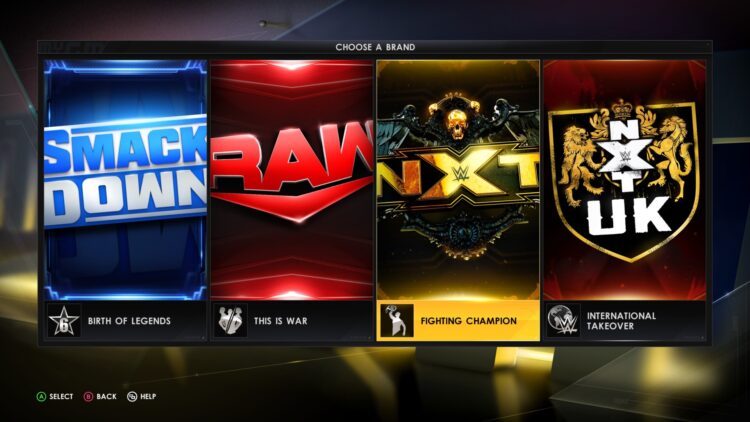 WWE 2K22: MyGM Guide and Tips to Win the Season
WWE 2K22 is a sequel to WWE 2K21. Customizing your draft pool and selecting wrestlers during the draft in MyGM mode.
The settings panel will appear when you've chosen a GM and a show. You may adjust the difficulty, competition duration (number of weeks), and draft pool here. You'll be able to see all the wrestlers available if you set it to custom. You can make the following changes:
Status – Active, inactive, or if they're considered legends (more on this later). This is also where you can toggle created superstars/CAWs if you want them to appear.

Popularity – The popularity value of a superstar determines how many fans (and money) they'll be able to draw. This will also affect their salary.

Role – Face or heel. Ideally, you'll want face vs. heel matchups to get a ratings/fan boost due to the added drama and tension.
Class – This is a wrestler's specialty or archetype. Some matchups might give bonuses, like Bruisers vs. Fighters.
---
When it comes to the WWE 2K22 MyGM mode draft, you and your opponent will alternate picking wrestlers for your roster. Keep the following in mind:
Each show has a $2,750,000 budget to begin with.
You have the option of opting out after your eighth draft pick to save money or continuing to draft to bolster your roster.
Keep track of the amount of money you spend on your athletes (i.e., higher popularity usually means higher costs).
Obtaining too many main eventers will put a significant dent on your finances. You might want to include a few mid-carders as well.
Examine each superstar's face or heel positions to ensure that rivalries always have that dynamic.
Each show has only one men's championship (global title) and one women's championship. Once you've finished the draft, they will be assigned. There are no tag or secondary titles.
---
Booking a show and other considerations in the MyGM mode
Learning about the weekly schedule of MyGM.
When you're ready, go into MyGM mode and book your shows. Four weeks of normal programming will be followed by a pay-per-view event:
Three matches and two promos are allowed on regular shows. Four matches and three promos are allowed on PPVs.
Only one-on-one and two-on-two matches are permitted (i.e., tag team). There are no battle royale, triple threat, or deadly fourway matches. You can still choose stipulations like hardcore/extreme rules, tables, and TLC, for example.
Promo choices can help boost a superstar's popularity, get them to call out a rival/start a feud, switch from face to heel and vice versa, get more cases, or get more fans.
Take note of a superstar's stamina, which will diminish dramatically depending on the match type and how frequently you book them.
To expedite the process, you can mimic your complete presentation as well as your competitor's. You can also play the matches on your show if you choose.
You'll see how much money you made, how many fans you gained, and the ratings of each match at the end of each week. Depending on how many viewers tuned in to your individual shows, you and your competitor will be judged accordingly.
Wrestlers may also send you messages with specific requests. Denying any request, regardless of the wrestler, will cause that wrestler's morale to plummet. Accepting their requests and, more importantly, following through on those requests will increase that wrestler's morale. If you haven't utilized a wrestler in a while, they may demand a $100,000 incentive in order to stay on the show. Some will give you "one more chance" if you decline them, while others will simply depart.
---
Logistics for the Show
You can choose arenas, staff, special effects, and commercials from this panel:
Venues – Larger arenas mean more seating capacity, higher ticket prices (i.e. cash inflows), and better show quality.
Crew – Show quality has improved.
Special effects — The show's quality has improved.
Advertisement – Better show quality and more viewers.
Note that some options provide optional goals that provide participants with additional benefits.
Roster Management: Legends and Free Agents
Legends are assigned by default in WWE 2K22 MyGM mode, or those that you toggled if you choose a custom draft pool before commencing. They are usually quite pricey, but they are also quite popular. If you chose William Regal as your GM, make sure to activate the Legend Whisperer card to get the first legend you recruit for free (along with a 10-week contract).
Free agents, on the other hand, are wrestlers you didn't select during the draft. You could see some generic wrestlers here as well.
Keep in mind the contract status of each wrestler. You don't want that contract to run out just as you need it.
---
Power Cards
You must have at least two Power Cards to begin MyGM mode in WWE 2K22: one from your GM and one from your show. You'll pick up the rest as you go along. Keep in mind that the descriptions will either take effect that week or the following week.
Ideally, you'll want to use several during a PPV (for example, better ratings, better rivalries, free advertising, free arena use, and/or free special effects). Because PPVs attract a lot of attention and money, boosting your revenues at this point would be great.
Commissioner goals, morale, and meeting commitments, according to the Journal and WWENet
The Journal tab indicates whether Triple H, who serves as the commissioner for all brands, has a specific goal in mind. He might, for example, request that you book a specific wrestler. Alternatively, he may advise you against booking them. He could even request a specific match condition for that week. You'll get an extra Power Card if you finish this job.
When it comes to WWENet, this is where you'll find additional remarks from Triple H and other superstars after an event has concluded. Wrestlers may advise joining a tag team with a friend, pursuing a title shot, or envisioning oneself in the main event. Similarly, you may be asked to do a General Manager Interference on behalf of a wrestler (which you can toggle when booking a match). Keeping your promises boosts a superstar's confidence. Refusing their proposal or completely neglecting to act on it, on the other hand, will result in a drop.
Thanks for Visiting Bayou A Game. We love Video Games here.